ClearMed by Background Solutions Online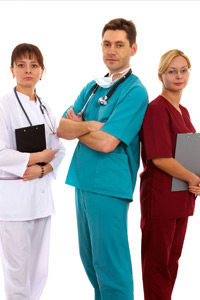 Now, more than ever, it is imperative to screen Healthcare workers. It is important to hire someone who is of good moral character. Background Solutions Online Management can help your company do just that. By utilizing our ClearMed and ClearMed Plus Hiring Packages, we can help you find the right applicant for the job, allowing you to hire with confidence, protecting your most important assets: your reputation, your employees, and your patients.

Each ClearMed search utilizes the following search tools:



Instant Social Security Addresses & Verification (SSAVY)


The Social Security Trace checks the validity of an applicant's Social Security Number. If the number is valid, the trace will identify the year and state in which the number was issued. The Social Security Trace will alert you if the number has not been issued, if it was used in a previously filed death claim, or if it was used with any fraudulent activity. The trace also identifies AKA's that have been used and provides up to three (3) past addresses, which help in determining which counties we should search the applicant's criminal record.



Instant State Sexual Offender Registry


Per Megan's Law, sexual offenders must register when they move. There are currently more than 550,000 registered sex offenders nationwide. Sexual offender registry searches are statewide searches of registered sex offender databases.


We perform searches of current records directly at local county, Superior, and Municipal courts. Criminal searches are available nationwide as well as in the U.S. territories and Canada. We recommend a search of all counties of residence and any AKA's that are identified in an applicant's Social Security Address & Verification report. Using our network of researchers, we access the most current information available and report felony and misdemeanor convictions based on applicable federal and state law.

We do not use online or CD-ROM databases, which may be out of date and inaccurate. The FTC in a staff opinion letter stated that an employment screening service that uses stored data (which may be as much as 90 days old) does not comply with the Fair Credit Reporting Act Section 613(2). State Repositories are available in some states, but many provide partial or out-of-date information because they are not frequently updated. Except where the repository is updated daily, state repository searches should not replace county criminal searches.


Required screening of all healthcare workers. FACIS reports on more then 50 healthcare professionals and agencies. FACIS reports information from approximately 800 state and federal agencies including the Office of Inspector General and the General Services Administration. It also includes the OFAC SDN list. This report allows organizations to make different risk management decisions depending on the individual or entity, FACIS® offers three levels of screening. The three levels vary in the depth of the sanction search provided.
Level 1 conducts a search of the sanction information as taken by the OIG, the GSA and other federal agencies. The information reported in this level meets the government's minimum requirements for sanction screening as set forth in the OIG's Compliance Program Guidance. Intended for low risk workers and contractors or those not involved with patients.
Level 2 combines the Level 1 search of the federal agencies with disciplinary action information from multiple agencies and one state of choice. Intended for medium risk workers and contractors such as administrators.
Level 3 is the most robust search option, allowing you to conduct a search of disciplinary actions taken by federal agencies as well as those taken by licensing and certification agencies in all 50 states. This is the most comprehensive search method available. Intended for high risk workers, contractors and those involved with direct patient care such as nurses, physical therapist and physicians.
---

ClearMed Plus

Our ClearMed Plus offers all the tools in the ClearMed search along with the following search tools, to create the most cost effective Healthcare Pre Employment Hiring package available to your company.



Criminal History Report for 1 county


We perform searches of current records directly at local county Superior and Municipal courts. Criminal searches are available nationwide as well as in the U.S. territories and Canada. We recommend a search of all counties of residence and any AKAs that are identified in an applicant's Social Security Trace. Using our network of researchers, we access the most current information available and report felony and misdemeanor convictions based on applicable federal and state law.

We do not use online or CD-ROM databases, which may be out of date and inaccurate. The FTC in a staff opinion letter stated that "an employment screening service that uses 'stored data' (which may be as much as 90 days old) does not comply with" the Fair Credit Reporting Act Section 613(2). State Repositories are available in some states, but many provide partial or out-of-date information because they are not frequently updated. Except where the repository is updated daily, state repository searches should not replace county criminal searches.



Professional License Verification


Background Solutions Online's Reference and Verification Department conducts professional license and certification verifications. Our reports reveal the validity of applicants' professional licenses, date of issue, renewal and expiration dates, current status and any disciplinary action.


The Global Scan Patriot Act Name Search includes the following U.S. and foreign sanctions and watch lists. Lists notated with an asterisk (*) indicate a geographic-based sanctions list. Background Solutions Online will add additional sanctions and watch lists as U.S. or foreign governments and international organizations release them. These lists currently include:
OFAC Specially Designated Nationals (SDN) & Blocked Persons
OFAC Sanctioned Countries, including Major Cities & Ports*
Non-Cooperative Countries and Territories*
Department of State Trade Control (DTC) Debarred Parties
U.S. Bureau of Industry & Security (formerly BXA) -

Unverified Entities List
Denied Entities List
Denied Persons List

FBI Most Wanted Terrorists & Seeking Information
FBI Top Ten Most Wanted
INTERPOL Most Wanted List
Bank of England Sanctions List
OSFI - Canadian Sanctions List
United Nations Consolidated Sanctions List
Politically Exposed Persons List
European Union Terrorism List
World Bank Ineligible Firms
---
| | |
| --- | --- |
| | Give one of our Background Screening Professionals a call today at 239.514.2940 or toll free to discuss options available to you. |
| | | | |
| --- | --- | --- | --- |
| | | | www.backgroundsolutionsonline.com is owned and operated by Tardio and Associates LLC, a Florida based licensed Private Investigative Agency. License # A 2700198 |
Recommended by: